The youth in development virtual fellowship provides emerging civic leaders and social entrepreneurs with the skills and tools to lead social change initiatives effectively. Fellows are trained through boot camps and seminars delivered by subject experts worldwide. Alumni of this program have gone ahead to create viable and highly impactful social ventures and lead programs that are transforming their communities' social and economic landscapes. YID Fellows engage in a transformative learning experience, where they hone their entrepreneurship skills while learning to lead sustainable social change. Fellows will enjoy complimentary access to social innovation training, exclusive mentorship and coaching sessions, global peer collaborations and other benefits of our 4-month venture incubation program and exclusive networking opportunities.
Eligibility:
Interest in leading a social venture and a career in the social sector
Excellent idea or initiative for social change
Age 19 to 30 on or before 27th of February.
Proficiency in reading, writing, and speaking english
Availability to complete all the weekly activities included in the application process and the four-month fellowship and incubation program.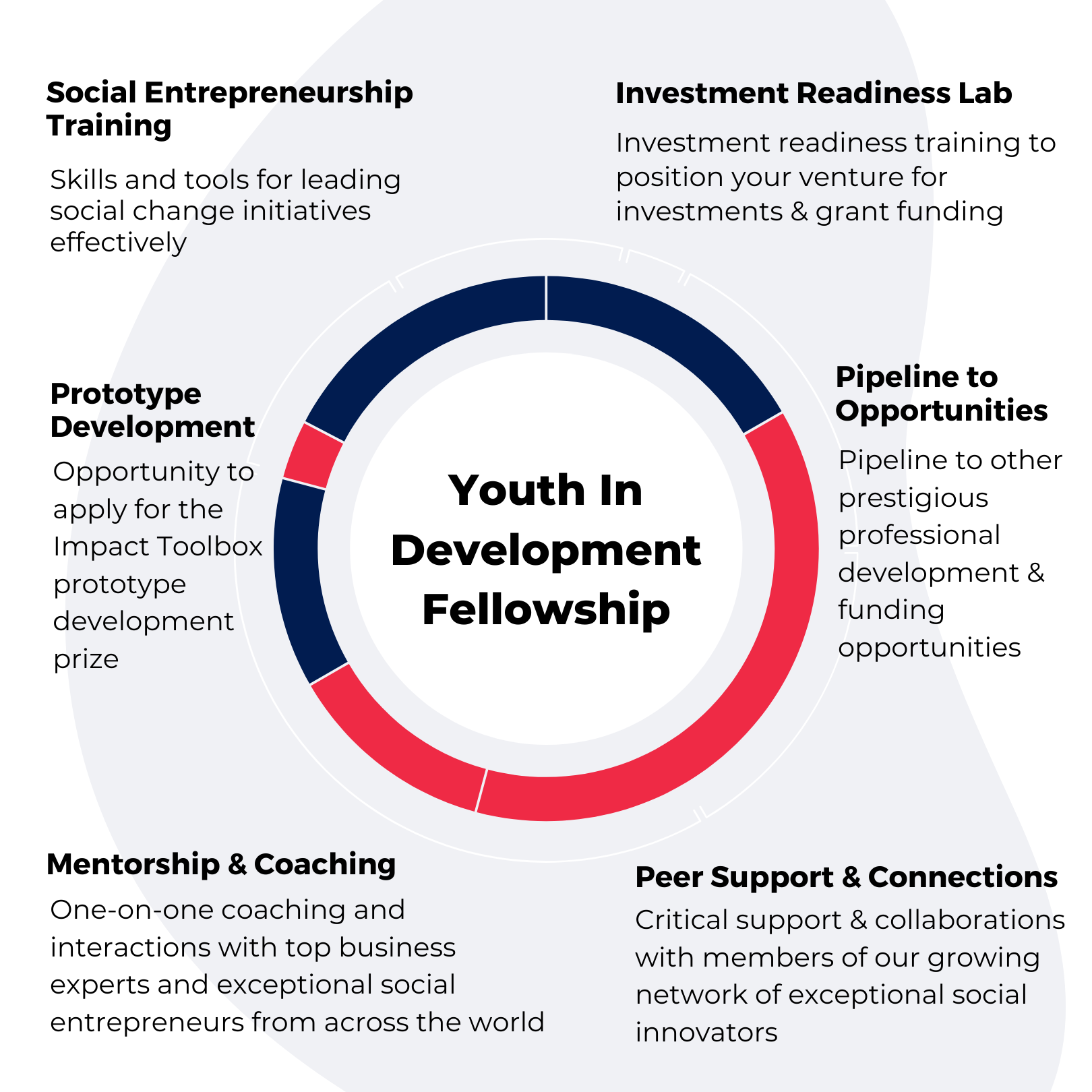 Stage One – Submission of an Expression of Interest (EOI): Initial application – EOI does not have a deadline. Submissions are received and reviewed on a rolling basis. Successful applicants are selected based on their passion and interest in civic leadership and social entrepreneurship. Successful applicants will be informed within 48 hours and provided with the necessary information for the next stage.
Stage Two – Online Social Entrepreneurship & Strategy Courses: Applicants selected to progress to stage two will be asked to complete five short courses on our platform and attend some live virtual sessions. Through these courses, you will learn to develop and submit your theory of change, strategic plan, business model, a minimal viable product (MVP), and a go-to-market strategy. You will receive a completion certificate for each training.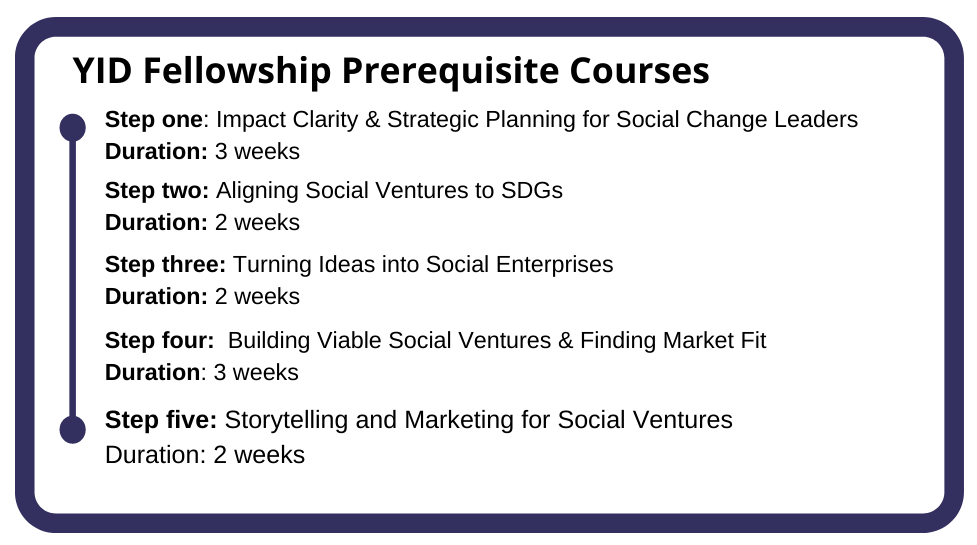 Stage Three -Submit Full Application: Based on the result of the courses and participation in the live sessions, we will invite qualified applicants to submit a second stage application. You will complete a short form to provide any updates on your ideas and interests. You will reflect on the knowledge acquired so far and upload your certificates. 
Stage Four – Finalist Announcement We will begin to review all submissions on February 27th and announce the next cohort of YID Fellows four weeks after. 
Stage Five – 4-Month Fellowship & Post-Fellowship Benefits: Fellows will participate in an intensive four-month incubation program and online learning experience that will include training on fundraising, systems thinking, storytelling, marketing, policy advocacy and growth strategies while drawing inspiration from distinguished facilitators. We have designed the fellowship sessions to educate, inspire and help expand your network. You will earn a badge of honour, affiliation and continuous support of your work. We will connect you with partners and peer collaborators within and outside our network.
Youth In Development (YID) Fellows come from different parts of Africa, transforming socio-economic landscapes and promoting equity, peace, and sustainable livelihood through their projects. Every year, fellows are chosen from a pool of thousands of applicants. Some of our amazing fellows are featured below:"