The youth in development virtual fellowship provides emerging civic leaders and social entrepreneurs with the skills and tools to lead social change initiatives effectively. Alumni of this program have gone ahead to create viable and highly impactful social ventures and lead programs that are transforming their communities' social and economic landscapes.
YID Fellows engage in a transformative learning experience, where they hone their leadership skills while learning to lead sustainable social change. Fellows will enjoy complimentary access to online courses, exclusive mentorship and coaching sessions, connection to peer collaborators, the opportunity to pitch for our prototype fund and exclusive networking opportunities. The Youth in Development virtual fellowship is open to young African leaders aiming to promote socio-economic development in their communities. 
Fellowship Benefits
Fellowship Benefits
The YID fellowship application and selection process is designed to ensure that you derive substantial benefits just by going through the application process. When selected as a Fellow, you will have access to:

Investment Pitch Lab to Position your Venture for Investments & Grant Funding.

Mentorship series and peer collaboration opportunities with counterparts in other parts of the world.

One-on-one coaching and interactions with top business experts and exceptional social entrepreneurs from across the world

Critical peer feedbacks, support and collaborations through our growing networks of exceptional social entrepreneurs and program alumni

Opportunity to apply for Impact Toolbox Prototype Fund & Connections to other funding opportunities.

The YID Fellowship serves as a pipeline for other prestigious professional development and investment opportunities.
Eligibility Criteria
Eligibility Criteria
Demonstrated interest in civic leadership and career in the social sector

Have an idea or initiative for social change

Be between the ages of 18-30 on or before the application deadline

Be a citizen of an African country and must reside and work on the continent

Be proficient in reading, writing, and speaking English

Be available to complete all the weekly activities included in the six months duration of the fellowship.

We have extended the application deadline to  January 5

,

2021
Application Process & Program Overview
Application Process & Program Overview
Stage One: Application Submission & Review:

Applicants are invited to submit applications. Successful applicants will be selected to progress to the next step on merit based on their passion and demonstrated interest in civic leadership and social entrepreneurship.

Stage Two:

Social Entrepreneurship & Strategy Course:

Applicants selected to progress to stage two will participate in strategic planning and social entrepreneurship course. Through these courses, you will develop and submit your theory of change, strategic plan and business model. You will receive a course completion certificate and an invitation to progress to the third stage.

Stage Three: 

3-Day Venture Creation Boot Camp:

We will invite applicants that progress to the third stage to attend a three-day boot camp hosted onsite or online by our local partners and community ambassadors. During the boot camp, you will learn about leadership, business planning, customer discovery and achieving product-market fit. You will receive a certificate of completion. Please note that we will host the 2022 boot camp online. 

Stage Four:

Finalist Announcement & 6-Month Fellowship:

We will announce the

YID Fellows after the YID boot camp, profiled on our websites and widely celebrated. They will participate in an intensive six-month online learning experience that will include training on grant writing, monitoring and evaluation, financial modelling, storytelling, marketing, positioning for investments, policy advocacy and political participation.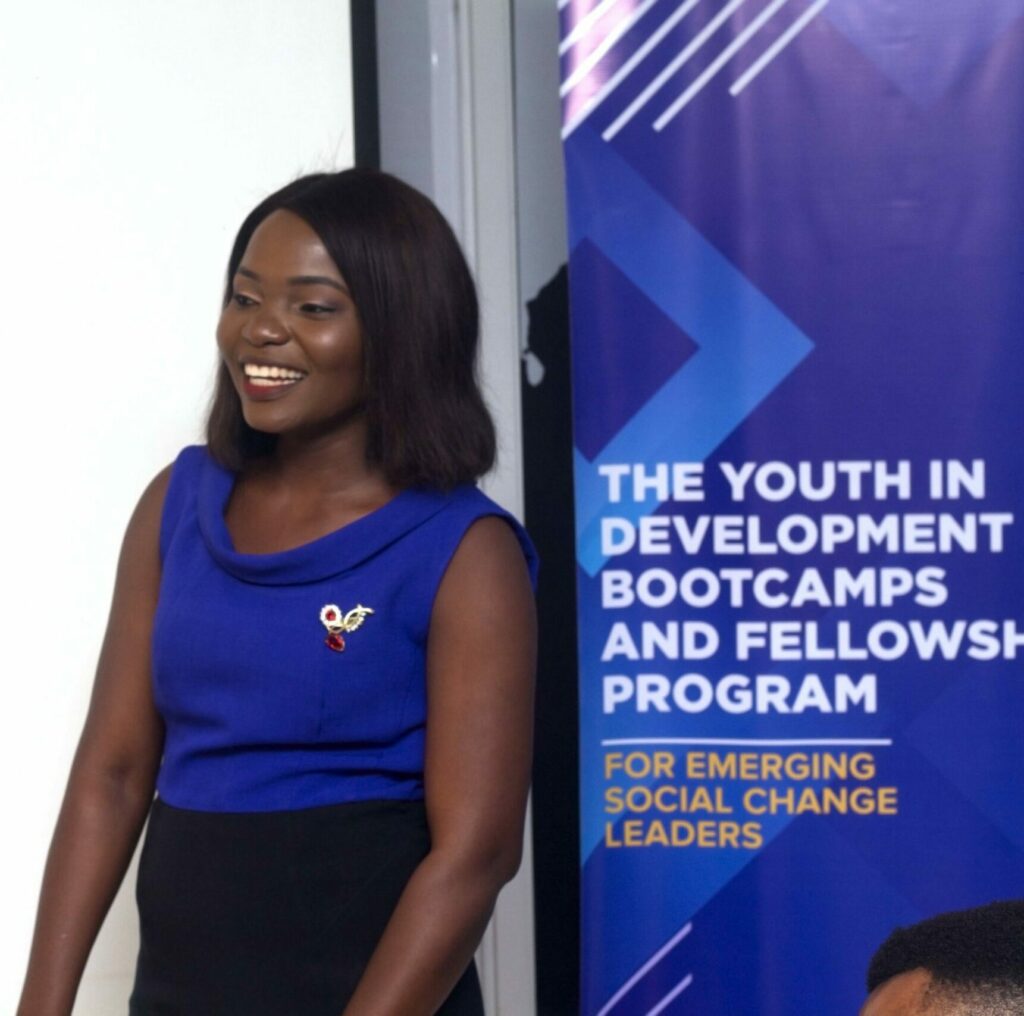 Featured YID Fellows
Featured YID Fellows
Youth In Development (YID) Fellows come from different parts of Africa, transforming socio-economic landscapes and promoting equity, peace, and sustainable livelihood through their projects.  Every year, fellows are chosen from a pool of thousands of applicants.  Some of our amazing fellows are featured below:

Justin Eghaghara
Director, Vision Redefined Foundation
Not until joining the platform, did I understand the need to be deliberate in strategic planning and management. The program has immensely improved my skills in leadership, community development and has practically demonstrated the importance of networking and collaborations. I am grateful for being a member of this great community of vibrant minds who are willing and ready to make positive changes for a better world. At Vision Redefined Foundation, we offer affordable and accessible eye health services to visually challenged children and adults living in hard-to-reach rural communities in Nigeria. We have improved the sight of over 600 school-aged children suffering various challenges of poor vision and have improved quality of life of over 2000 visually challenged adults.

Team Lead, Future Got Better
My participation in this training is one of the best decision I have made. It's been so insightful. It provided me with the necessary information required to properly structure and position our organization for global opportunity and also networking with other social change leaders. Future Got Better is a youth led organization committed to raising innovative leaders among teenagers through Leadership/ life skills training and mentorship. We have trained and mentored over 7000 teenagers within Lagos and Ogun state, Nigeria.

Blessing Ashi
Program Officer, Tech4Dev
My mantra in life is to Learn, Unlearn and Relearn. This was the mindset I brought to this program and there has been no room for regret. Joining this platform has not only prepared me to become a better leader but it also made me to appreciate my wins and milestones. I've learnt thus far that problems exist everywhere, however my ability to discover the problem and proffer lasting solutions makes me a leader. This platform has also proven that collaboration has become the  next big thing in the developmental space.

Co-Founder, The Mindset Initiative For Sustainable Education (The Mindset Africa)
Since I have been attending training and fellowship programs, I have never encountered the kind of learning experience I've got on this platform so far. I never believed I could garner as much relevant learning experience, knowledge and skills needed to help with the smooth running of my organization in the shortest possible time. The curriculum is way too mind blowing and the network of social impact leaders I got was top-notch.  So far, my organization, The Mindset Africa has trained over 350 teenagers across 4 communities in south west Nigeria with relevant leadership and digital literacy skills needed to prepare them for the future of work.

Team Lead, Brace-up The Young
I have not attended a training that is so insightful and impactful as this. I have better understood my target audience and rebranded my idea to better position it for global opportunities. I had the golden opportunity to interact and meet with social change leaders from across the continent that answered my questions personally. This is the best social change training I have attended.  My organization, Brace-up The Young educate and mentor young people to become innovative and accountable leaders in Nigeria. We have empowered over 323 youth with leadership skills needed to thrive in the 21st century.

Founder, Yattiyr Scholarship Initiative
The platform feels like a closely knitted nuclear family, collaborating and growing together. Impact toolbox offers a well-planned and strategic platform that has so far helped me redefine, reshape and reposition myself and Yattiyr Scholarship Initiative as a better social change venture. Yattiyr Scholarship Initiative has provided 50 scholarships to indigent students, trained 1500 public secondary students on leadership.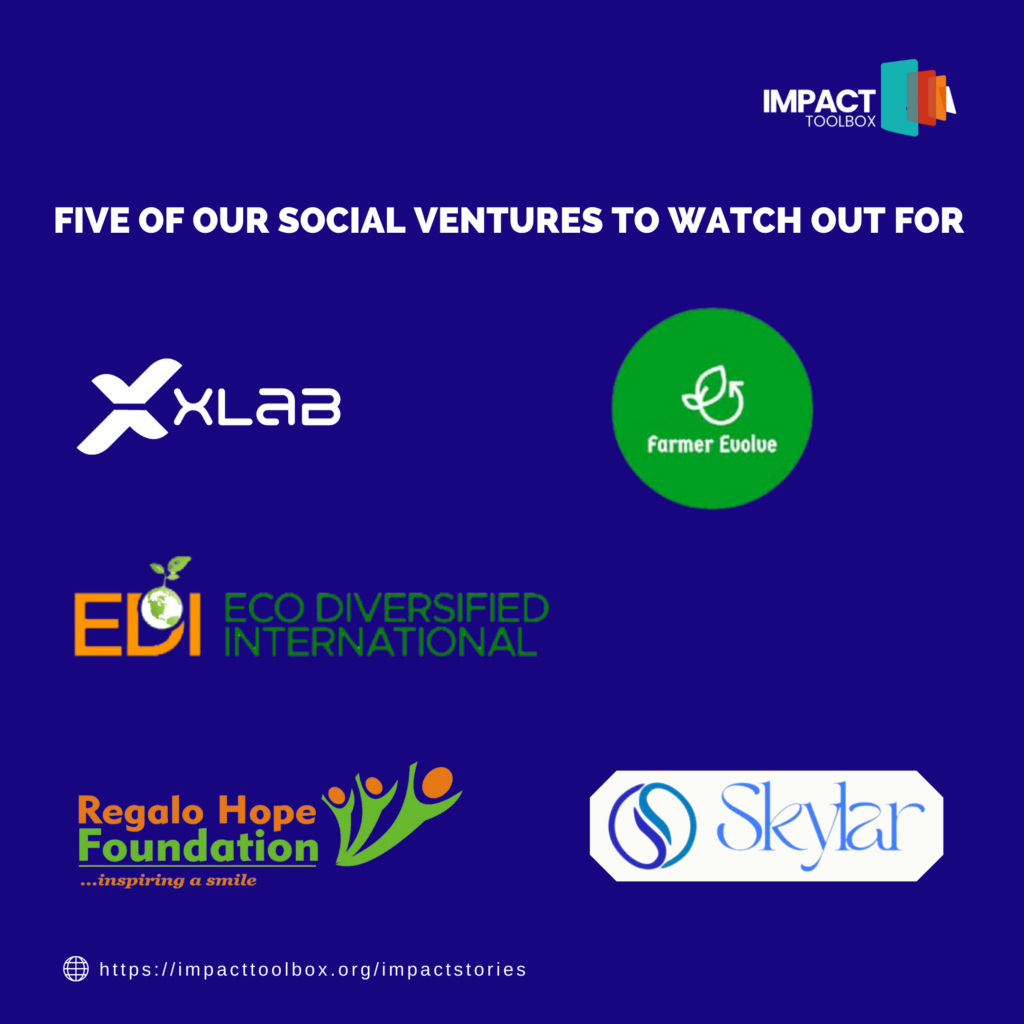 A journey of a thousand miles begins with 6 months
From the drawing board to our own silicon valley, 18 social impact leaders take their ideas from mere creative currency to real ventures. Six months of rigorous learning, coaching, mentorship and peer collaborations via Impact Toolbox have produced these innovative leaders. Allow us to showcase five (5) of our exceptional Youth in Development Fellows and their ventures. The Youth in …
INSTITUTIONAL PARTNERS
INSTITUTIONAL PARTNERS