East Kootenay Social Enterprise Incubation Project
Learn how to start a successful social enterprise, build a business model, discover customers, and find market fit.
About Course
Do you want to make a real difference in your community and make money while doing so to sustain yourself and your impact? You're in luck! This self-paced Social Enterprise Development Course is the roadmap you need to create initiatives that tackle complex problems and make a real impact. We'll show you how to start small, validate your ideas, and grow purposefully. With a perfect blend of critical insights and practical steps, you'll learn how to build thriving social enterprises that contribute to positive social and environmental change and bring you some income! Whether you're a budding visionary or a seasoned entrepreneur, this course will give you the tools to build sustainable social impact enterprises from the ground up.
What makes this course so unique?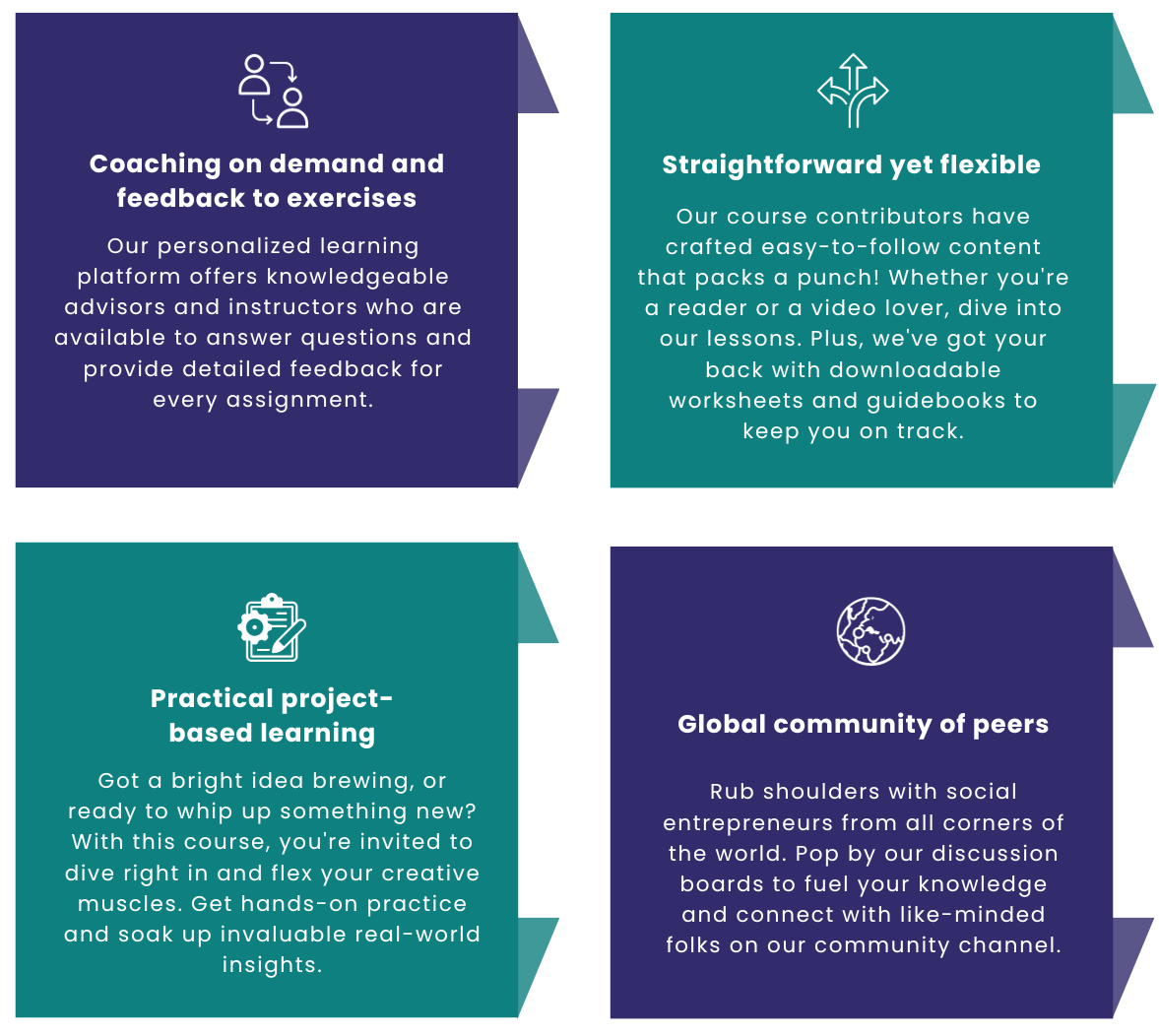 Course Contributors
Buckle up for mind-expanding learning on social entrepreneurship! Our course isn't just textbooks and lectures; we've got a crew of trailblazing social entrepreneurs and leaders from around the globe, contributing their hard-earned wisdom and experiences. The course will take you on a journey of diverse perspectives and insights into the exciting world of social enterprise development.
Kelly D. King (StartEd, New York)
Erich Schlenker (Managing Director of the Center for Entrepreneurship, Appalachian State University)
Kyle Satinitigan (Wesolve, Makati, Philippines)
Drew Edwards (Pangea Education Consult, Chicago)
Owonikoko Olusola (Stanforte Edge, Nigeria)
Kirsten Brosbol (Founder of 2030Beyond, Former Minister for Environment and Danish Member of Parliament, Denmark)
Dr. Segun Fatudimu (Founder and CEO at Impact Toolbox, Canada)
Min Ngo (Toronto Metropolitan University, Canada)
Lisa Ngo (York University, Canada)
Akina, New Zealand
Show More
What Will You Learn?
Social entrepreneurship and the entrepreneurial journey

Problem and solution analysis and validation

Developing a theory of change

Customer segmentation and competitive analysis

Designing business models and customer discovery

Creating minimal viable products

Finding product-market fit using the lean methodology

Navigating startup challenges and incorporating a social enterprise

How to align a social enterprise with the SDGs

Wise practices for incorporating an early stage social enterprise
Course Content
Module 3: Creating a social impact model
Live session 1: Introductions

What is a theory of change?

Components of a theory of change

Creating your theory of change

Exercise: Create Your Theory Of Change

Live session 2 – Theory of change
Module 4: Finding your competitive edge
Module 5: Analyzing customers and proposing value
Module 6: Developing the business model
Module 7: Developing a minimal viable product and customer development
Module 8: Pivot or persevere and navigate start-up challenges
Module 9: Thinking Global: Aligning your social enterprise with the global goals
Module 10: Financial and Business Planning
Earn a certificate
Add this certificate to your resume to demonstrate your skills for leading social change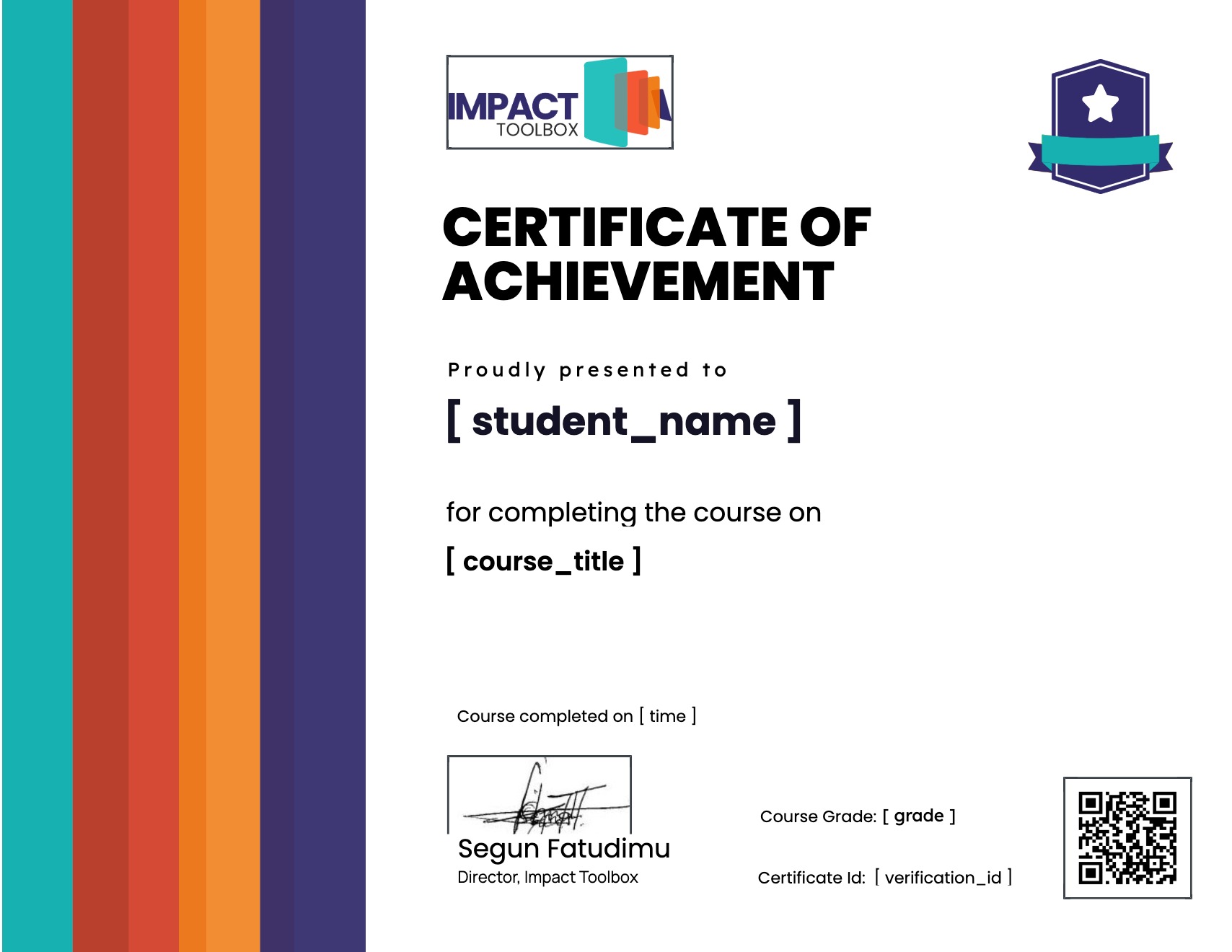 Student Ratings & Reviews
No Review Yet