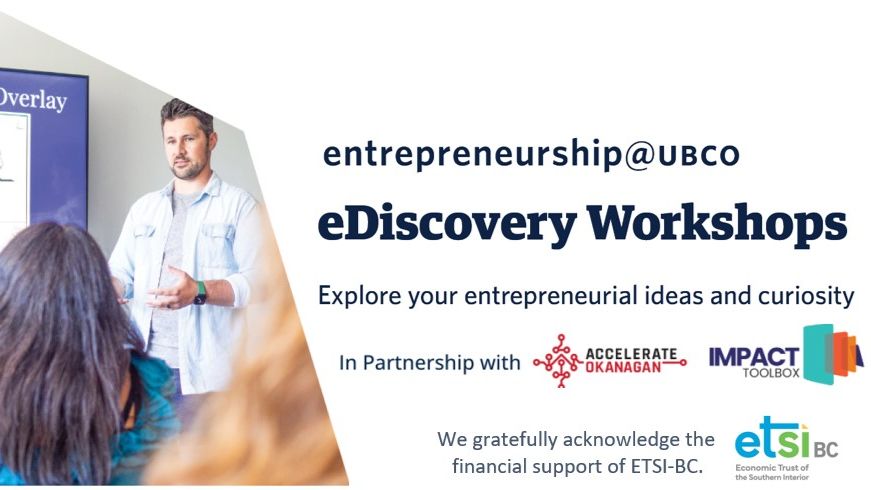 entrepreneurship@UBCO's eDiscovery is delivered through a series of foundational workshops delivered in partnership with Accelerate Okanagan and supplemented with online training and support through Impact Toolbox. eDiscovery is subsidized by ETSI-BC to be delivered at no cost to UBCO students, faculty, staff, and recent alumni who have entrepreneurial ideas and are interested in developing their entrepreneurial mindset. Participants are expected to attend all workshops and complete this online Impact Toolbox programming.
Impact Toolbox is a digital social-minded venture incubator that empowers builders and creators to transform their ideas and passions into socially-minded viable businesses & community development projects through training, tools and growth resources. The platform will walk participants through key learnings in considering and starting a business.
Participants will come together for the in-person workshops in EME 1121 on UBCO Campus. Workshops will focus on supporting entrepreneurs through:
Defining The Problem & Analyzing Solutions
Lean Business Model Canvas Design
Problem Validation and Customer Discovery
Solution Testing and Customer Validation
Positioning and Presenting a Business Idea
After each workshop, you will have access to a module from Impact Toolbox that will supplement the introduced concepts and walk you deeper through the process. The expectation is that each module is completed before the next workshop. There are four modules to complete. Each module should take no longer than 2 hours to complete and you have two weeks to go through the content in between workshops. Over the course of the series, you will develop a framework that takes you from defining a problem to positioning and presenting solutions.
eDiscovery Workshop Dates*
Thursday, February 16, 2023

Thursday, March 2, 2023

Thursday, March 16, 2023

Thursday, March 30, 2023

Thursday, April 13, 2023
*All events are scheduled 5:30-8:30PM in EME 1121
Any additional inquiries or questions regarding e@UBCO or eDiscovery programming, please email innovation.ok@ubc.ca
To contact the workshop facilitator, Ty Summach, for additional support with your idea, please email ty.summach@ubc.ca